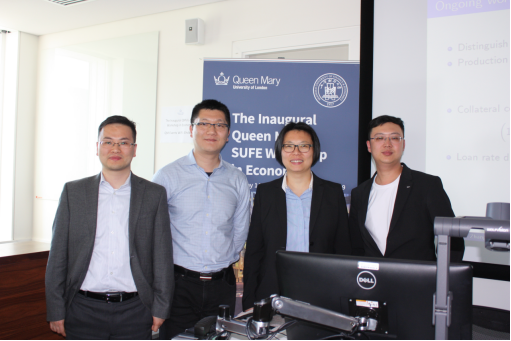 The inaugural QMUL-SUFE Workshop in Economics on "Growth and Development in Uncertain Times", jointly organized by the School of Economics and the Institute of Advanced Research at Shanghai University of Finance and Economics (SUFE) and the School of Economics and Finance at Queen Mary University of London (QMUL), was successfully held in Queen Mary University of London during May 12-16. Prof. Zhenxing Hua, prof. Jie Cai, Dr. Tongbin Zhang and Dr. Rongsheng Tang attended the workshop.
The four faculty members made presentations at the workshop, including Prof. Zhenxing Huang's "Are Managers More Sensitive towards Uncertainty? Evidence from a Field Experiment", Prof. Jie Cai's "Knowledge Diffusion, Trade and Innovation across Countries and Sectors", Dr. Rongsheng Tang's "Within-Job Wage Inequality: Performance Pay and Job Fitness" and Dr. Tongbin Zhang's sharing on the work of China's Macroeconomic Analysis and Forecast project. It has been an enjoyable and lively event, where the attendees discussed various topics on China's economy.
Prof. Huang, Assistant to the Dean, also briefed the guests on the basic situation of SOE and the internationalization reform in economics education, faculty recruitment and scholarly research. He also mentioned the recent news of SUFE's economics & business ranking Top 1% ESI and economics 35th in Tilburg Ranking.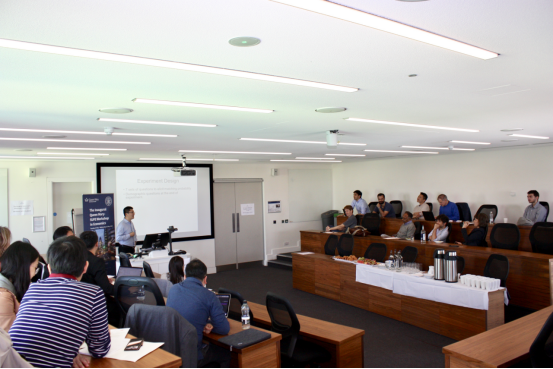 Scholars from both institutions conducted a wonderful brainstorming during the workshop and came up with many good suggestions on strengthening future collaboration. Prof. Sujoy Mukerji, Dean of the School of Economics and Finance at Queen Mary University in London, also hoped that the two institutions should have more extensive and in-depth collaboration in the joint training of postgraduate talents, research cooperation between China and Europe and organization of workshops.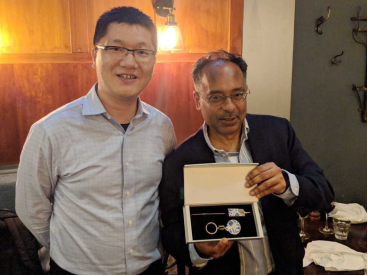 In the end of the workshop, Prof. Huang presented a souvenir featuring Chinese culture and the logo of SUFE to Dean Mukerji on behalf of SOE.